Nimble Storage All Flash Arrays

Predictive All Flash Storage for the Modern Data Center

The industry's only predictive All Flash array combines the speed of flash with the power of InfoSight Predictive Analytics—radically simplifying operations while delivering 33%-66% lower TCO than other all flash arrays. Backed by Nimble Storage's Timeless Storage, there is no need to pay for optional software and forklift upgrades are a thing of the past. All Nimble flash arrays are Cloud Ready—providing an easy on-ramp to the cloud through Nimble Cloud Volumes.
Sheer Performance with Unmatched Scalability
Built for speed and scalability, Nimble All Flash arrays deliver the performance and low latency needed to power the Flash data center.
33-66% Lower TCO
All flash performance at less than the cost of legacy performance disk solutions and one to two thirds lower TCO than other all flash arrays.
Absolute Resiliency
Non-stop availability delivers 99.9999% measured uptime through InfoSight Predictive Analytics and no single point of failure hardware and software design.
Backup at One Third of the Cost
Storing backup copies on all flash arrays can be cost-prohibitive. That's why Nimble Storage cost-optimized Adaptive Flash arrays can be used for backup, DR, test/dev and archival even when primary copies are stored on All Flash.
Scale-Out
An All Flash array scale-out cluster, managed as a single entity, can non-disruptively scale beyond the limits of other all flash arrays to over 8PB with more than 1.2 million IOPS at less than 1ms response time. And with Scale-to-Fit, grow capacity and performance of an array independently and non-disruptively.
Nimble Storage AF-Series Arrays
AF1000 and AF3000
The AF1000 and AF3000 are the perfect entry points for all IT organizations that require speed and economy for performance-sensitive workloads.
AF5000 and AF7000
The AF5000 and AF7000 offer high performance and attractive economics for performancesensitive workloads that need the best blend of price/performance/scalability.
AF9000
The AF9000 is designed for consolidating multiple large-scale performance-sensitive applications with aggressive performance and high scalability demands.
Nimble All Flash arrays support iSCSI and FC storage protocols.
Nimble Storage AF-Series Arrays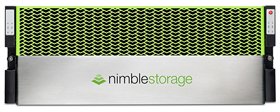 6-46TB / 5-42TiB Raw Capacity
4-33TB / 3-30TiB Usable Capacity
20-165TB / 15-150TiB Effective Capacity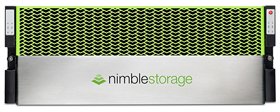 6-92TB / 5-83TiB Raw Capacity
4-67TB / 3-61TiB Usable Capacity
20-335TB / 15-305TiB Effective Capacity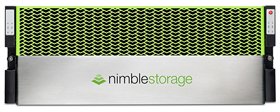 11-184TB / 10-167TiB Raw Capacity
8-136TB / 7-123TiB Usable Capacity
40-680TB / 35-615TiB Effective Capacity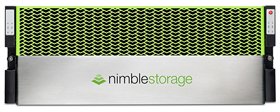 11-323TB / 10-293TiB Raw Capacity
8-238TB / 7-217TiB Usable Capacity
40-1,190TB / 35-1,085TiB Effective Capacity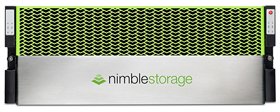 23-553TB / 20-503TiB Raw Capacity
17-409TB /15-372TiB Usable Capacity
85-2,045TB / 75-1,860TiB Effective Capacity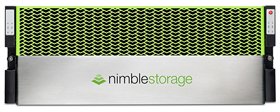 2,212TB / 2,012TiB Raw Capacity
1,636TB / 1,488TiB Usable Capacity
8,180TB / 7,440TiB Effective Capacity